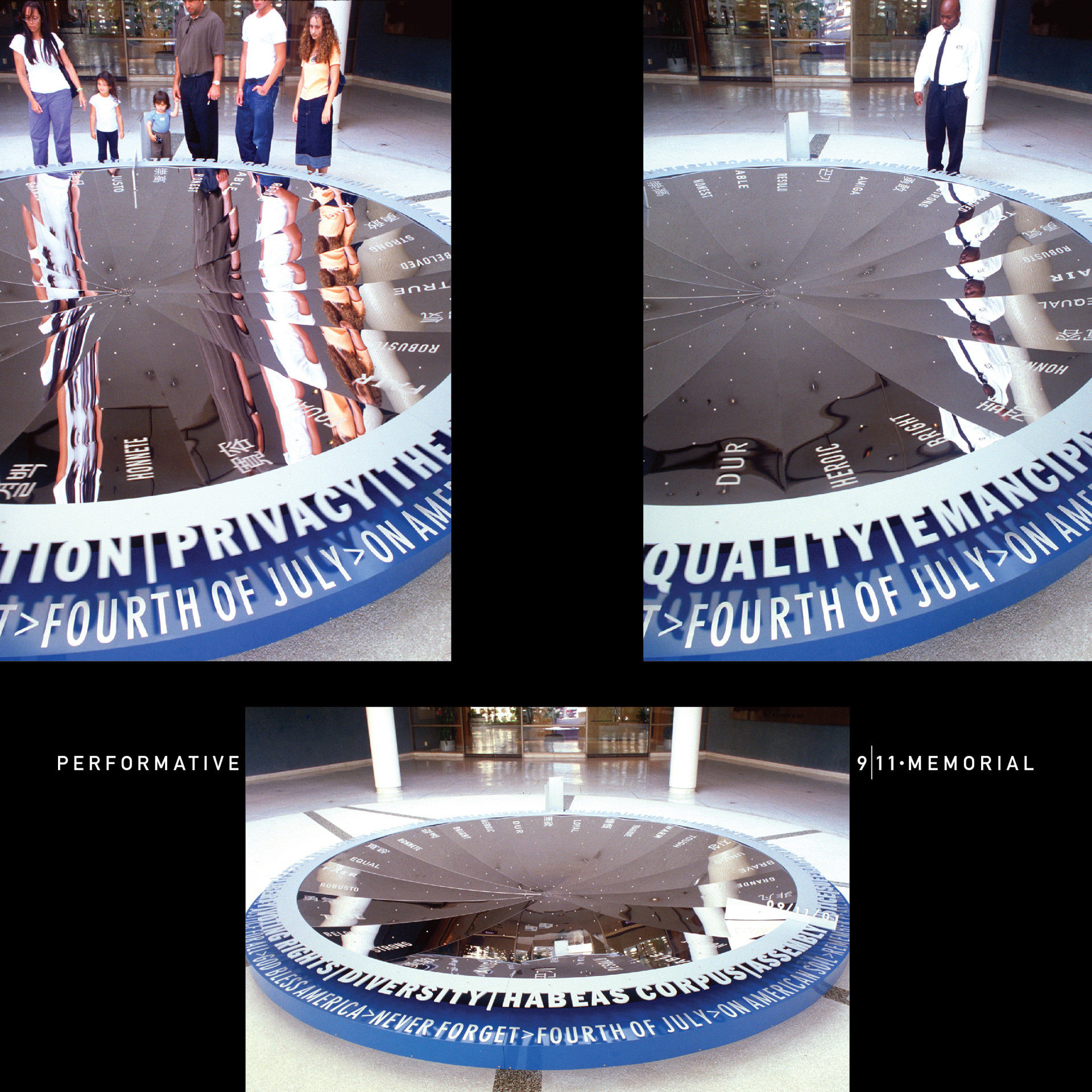 9/11 Memorial---Recovering Equilibrium----2003
Project Site:
Theme Building--Los Angeles International Airport
Funded by:
The Los Angeles Cultural Affairs Department
Los Angeles World Airports

This commissioned public artwork commemorates the impact of 9/11, reflecting the tumultuous psychological shift and national dialogue triggered by the attacks. Los Angeles was tragically linked to the terrorist attacks on the United States---three of the four hijacked airplanes were headed to LAX. The art and design team created this modest Memorial to reflect the community's collective loss, symbolizing the nation's re-examination of its collective national identity.

Within the entry court below the historic Theme Building at LAX---the given site---an existing fountain was appropriated and altered. The functioning of the fountain was updated and adapted, entombed and fortified within two primary elements. Federal blue aluminum cladding encloses the perimeter of the fountain, a fixed element inscribed with phrases that codify National Perceptions, commonly understood phrases, lyrics and slogans---Never Forget, Sea to Shining Sea, American Dream, et al.---with a nationalistic resonance that undoubtedly varies within or outside the United States.

A reflective, concave stainless steel dish floats on the surface of the water, inscribed with core American Rights & Ideals---Probable Cause, Privacy, Due Process, Habeas Corpus, et al.---extending outward from the rim of the concave dish. The relationship of these two concentric, superimposed rings of text are in constant flux, due to the movement of the floating dish, caused by water circulation, wind or a viewer's direct interaction.

Inscribed upon the floating mirrored dish, reflected upward at night, are the collective Personal Traits of the victims---Beloved, Equal, Strong, Honest, et al, translated into multiple languages---which suggest a collective national identity. Embracing the reflections of all viewers, it symbolizes our diverse American citizenry and our vicarious identification with the victims. Reflecting upward at night, it also suggests the residual afterlife of the victims.
Constructed of structural stainless steel and fiberglass. Inscriptions are projected and imaged onto aluminum, stainless steel veneers and concrete.