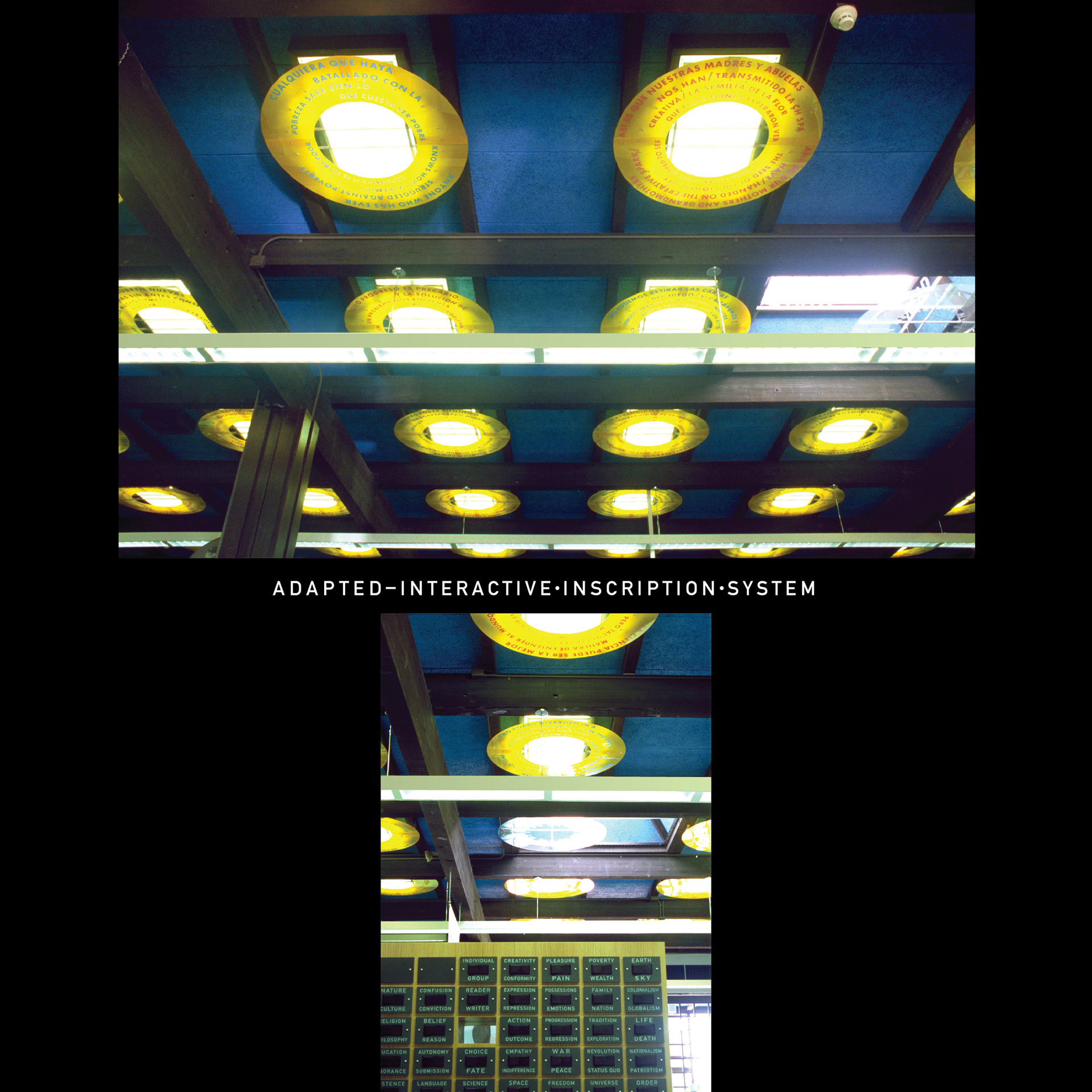 Constellation of Cultures----2003/ 2012
Project Site:
Ocotillo Library/ Phoenix
Funded by:
The Phoenix Arts Commission

To symbolize the processes of becoming literate and acquiring knowledge, we appropriated and altered the old lighting system in this library, to articulate a diverse constellation of cultures---authors, ideas, writings---that is available to all. Colorful disks hover above the space, each inscribed with the immortal words of a writer. The name of the author can be switched on/ off---visible/ invisible---to suggest the mortality/ immortality of an individual.

An electronic control panel with on/ off switches---a symbolic re-creation of a card catalog---stands in the Library, to afford opportunities for direct interaction, symbolizing individual transformation through literacy and self-education. Each switchplate is inscribed with two oppositional words---Poverty/ Wealth, Life/ Death, et al---which correspond to the theme of the quotation it will illuminate. Located in the skylight above the checkout area, an ephemeral variation of the disk hovers overhead, suggesting the process by which a Reader becomes a Writer, and the way an individual becomes activated by knowledge.

As an alternate illumination system within the Library, this artwork becomes a dynamic presence within the interior. It occupies the psychological space overhead---a diverse constellation of cultural ideas---to visually stimulate an individual's journey toward self-discovery.
Constructed of structural aluminum forms, etched aluminum panels, die-cut vinyl inscriptions on color acrylic panels and networked lighting control switches.