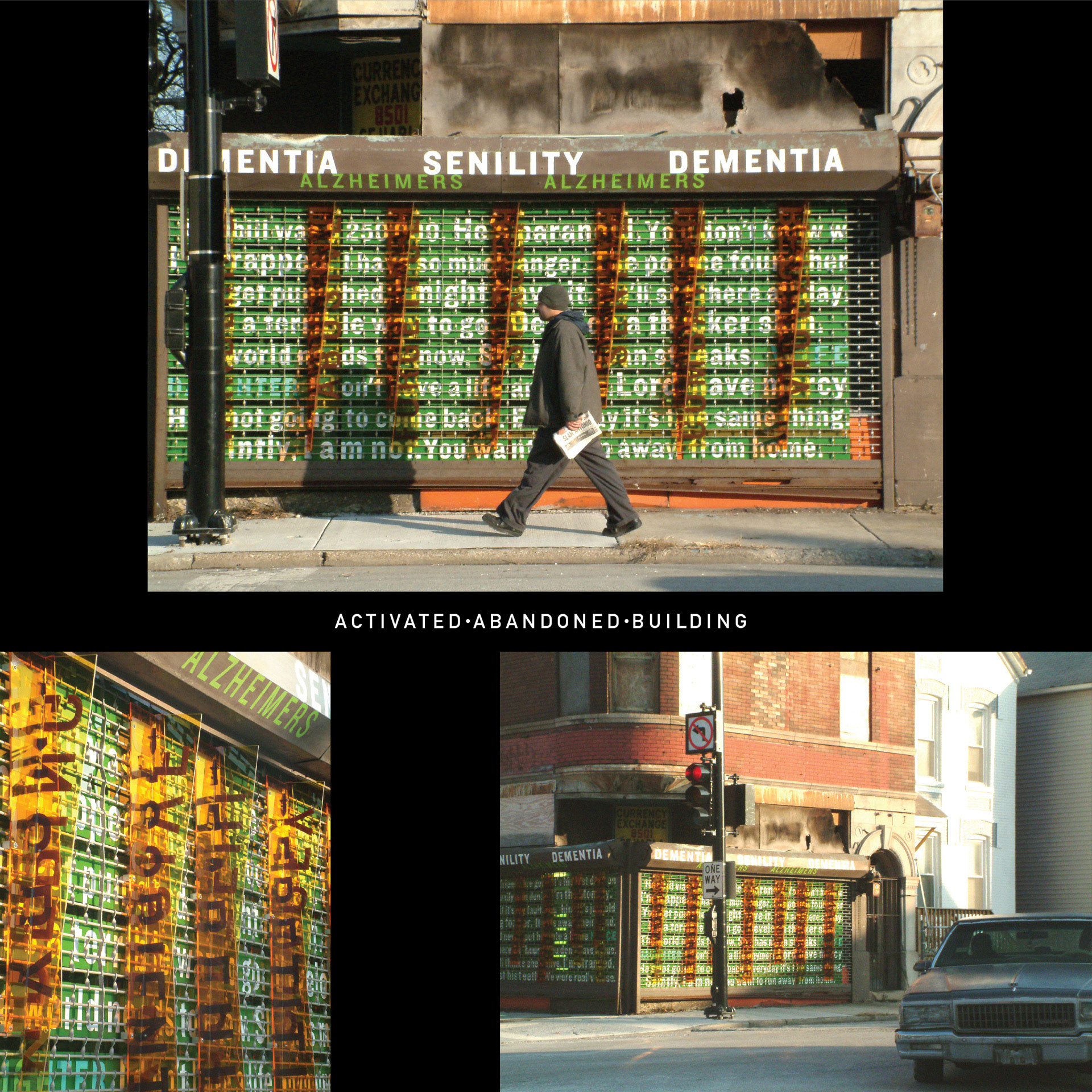 Under Mind---2006
Project Site:
South Side/ Chicago abandoned building
Funded by:
Chicago Department of Cultural Affairs
The ground floor façade of a decaying three-story residential/commercial building, highly visible to US Highway 41 traffic, provides a symbolic backdrop to articulate the dynamics between Alzheimers patients, their caregivers, and society.
Largely invisible to the public, the family caregivers of Alzheimers patients struggle daily with the difficult behaviors of loved ones. The experiences of a group of these caregivers—mostly female African-Americans from Chicago's South Side—were collected during community outreach with lay caregivers—usually daughters, nieces, or granddaughters of the patient—who were severely impacted by the onslaught of dementia in their relatives.
Using the security gates that enclose the storefront to metaphorically trap the caregivers' collected testimonies, attached torqued Plexiglas panels articulate the descending metaphor of the security gate enclosure, blocking access to the decaying building within. Descriptive words on these panels—Paranoid, Spacey, Abusive—suggest the symptoms and behaviors that dementia victims unknowingly inflict upon their family caregivers.
Behind these vertical yellow and orange forms are large green panels with texts taken directly from outreach group interviews with family caregivers: I'm stranded. My family is in denial. You want to run away from home. I might have it. Develop a thicker skin…
Constructed of machined aluminum, acrylic-resin panels, and die-cut vinyl.